1 DAY TO GO!!
Oops, been getting slightly confused with my days! It is most definitely one day till THE biggest event for fashion graduates commences, but its 2 days until the Rave show! As I said in the last GFW post I'm heading down the Earls Court to watch our show so I will be blogging as it happens and I'm so excited!
They have also just released an app in time for the event next week. The app, designed by UCLAN students, is the best way to find out about competitions and keep up to date with whats going on at GFW. It was also feature reviews and photos straight of the catwalk so will really come in handy for those who can't make it to the event!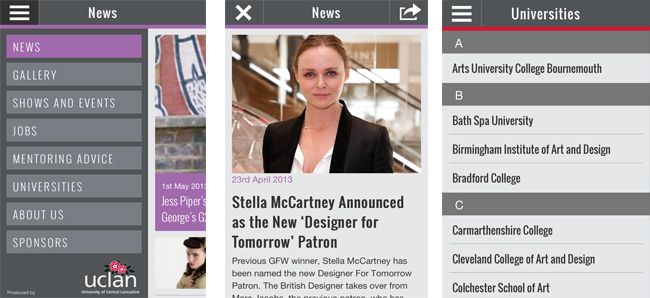 (Source: http://www.gfw.org.uk)
Moreover, fashion director of The Daily Telegraph Hilary Alexander (you should all know her!) has claimed that the Ravensbourne show was the first to sell out this GFW, so you must know this big news!
If you missed your opportunity to grab a ticket, Rave is hosting the pop up shop for a second year in a row so make sure you get down and check it out!
A third of Ravensbourne Fashion Promotion students are finalists in national competitions which is great news, 2 have been reviewed by iD online, and another is up for the prestigious D & AD award. At GFW, Promotion students are finalists for Fashion Photography, Fashion Marketing, Fashion Business Idea and Fashion Media. So make sure you check us out at GFW to see what everyones raving about! (sorry I couldn't help myself.)
Hilary Alexander with Anna Della Russo (Source: http://thefashionguitar.com)