London Collections: Men has become as big a part of British fashion as our bi-annual fashion weeks. Who says fashions just for girls? The third instalment of the popular event had a lot to offer and lots of surprises too, from Idris Elba took to the decks at Oliver Spencer, Dougray Scott tried his hand at modelling for the Savile Row presentation and David Gandy pretty much everywhere (not much of a surprise hey but I'm not complaining). Heres some of my highlights.
Burberry Prorsum
Burberry jumped ship from Milan to show in London for the first time, which makes sense when Burberry is known for heritage and is the quintessential British brand. Their first show didn't disappoint, with a front row filled with Burberry regulars such as Tinie Tempah and David Gandy (of course) the show begun showcasing an incredibly youthful, chic and wearable collection with a beautiful bright colour palette inspired by painter David Hockney.
View the full collection here
Katie Eary
Katie Eary sent each of her guys down the catwalk holding a skateboards in bright prints creating what might be next seasons must have accessory. Perhaps one of the standout collections from the event and certainly Eary's best collection to date, saw female and male models sashayed down the catwalk in clashing pinks and reds in leopard and flamingo print. Paired down with a pair of neon Nikes, the collection screamed cool and was perfect for its front row audience of the likes of Tinie Tempah and Reggie Yates.
View the full collection here
JW Anderson
Once again JW Anderson chose to turn menswear on its head. Last year we had frilly hemmed shorts and bandeau playsuits, this time around Anderson presented a bizarre collection of unisex pieces including an array of printed halter necks and little black dresses(tunics?) over trousers and man clutches. Clearly taking the lead in fusing feminine silhouettes menswear Anderson doesn't seem to be backing down any time soon.
View the full collection here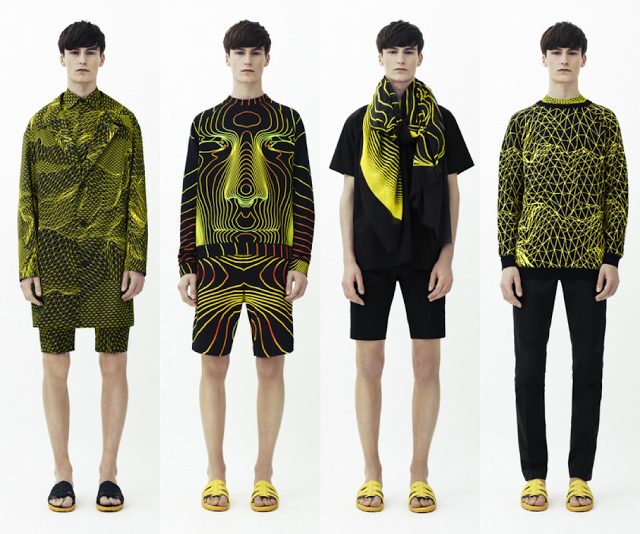 Christopher Kane
Christopher Kane looked to the future for his collections, featuring trophy sweatshirts adorned with 3D scanned images. What with advances in 3D printing looking to turn the industry on its head this collection was hugely relevant and contemporary. Graphic prints paired with straight leg trousers made this collection extremely wearable, keep you eye out I think we may see a lot of these prints soon!
View the full collection here
A few looks that raised a few eyebrows or simply took my interest starting with Craig Green, who created probably some of the most avant-garde looks from the event which can only be decried as sculptures, faceless and huge Green made a strong statement, so different from many of the wearable collections showcased at the event! Second, Astrid Andersen followed suit of JW Anderson with a collection of somewhat girly garments, white lace and long tunic/dresses however it could not of been interpreted differently thanks to the ridiculously built models sent down the catwalk. Each with perfectly oiled abs and biceps and with a macho sportswear feel Andersen offered a whole new take on the unisex dressing trend. Lastly, I always take a look at Christopher Raeburn's latest offerings, the ethical designer comes back every year with a collections of endlessly wearable sports-influenced garments you can imagine on the shelves at Topman right now. With prints of camo and a tie dye its an easily accessible brand which i feel sits comfortably in this commercial industry, which is very different to its sister industry!