The Haute Couture shows were shaken up this season when the ever controversial legend that is Schiaparelli made its come back, and it made sure it was a spectacle to remember.
The house has never been normal, back in the 1930's Salvador Dali described Elsa Schiaparellis studio as "the beating heart of surrealist Paris", Schiaparelli's designs were grown out of art not dressmaking.
Just as the brand was, its return was truly shocking and one that will be spoken off for a while. Renowned designer Christian Lacroix created 18 outfits that went on display in the Musee Arts Decoritifs, and this will be the first and last collection he designs for the brand. Moreover, the clothes on display were purely for display and not for sale, no matter how much money you were willing to offer the order books would not be opened. I guess this once again expresses that Schiaparelli is art not fashion. Its something that can last forever.
Lacroix was, in my opinion, the perfect candidate to design the collection. Both designers being so similar in their eccentric colour combinations and ridiculously flamboyant silhouettes. Lacroix payed homage to the legendary designers work with golden bug brooches (Schiaparelli was fixated with birds, bigs and insects), zippered jumpsuits, deep pockets and by abonding wearability, one layered skirts weighs almost 40kg. It was also exciting to see some designs from Lacroix after his label was forced to close its doors four years ago, so its was exciting to see new things from both Schiaparelli and from Lacroix.
Six years after Diego Della Valle, owner of the Italian Tod's group, bought the Schiaparelli house and announced their attention to relaunch – there is no official confirmation of who the Schiaparelli designer will be, although it has been widely reported that Marco Zanini of Rochas will be given the job.
This is just the start, it seems that from next year they will present their collections commercially, both couture and ready to wear. 21 Place Vedôme will become the home of a Schiaparelli boutique.
The relaunch of this brand has been nothing but unorthodox but who expected any different, Schiaparelli was just the same and was what made the brand so iconic. I think Lacroix has done a brilliant job of setting Schiaparelli up, lets see if Della Valle can continue his success.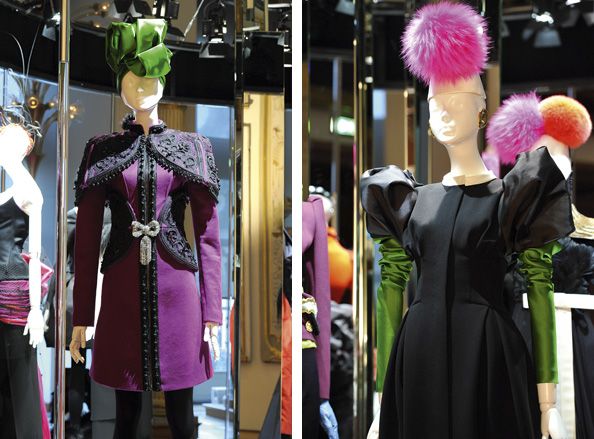 All images from wallpaper.com