It's a known fact that there is no love like that between a girl and her shoes, they have become more than just shoes for many women around the globe. In fashion it seems to have become the expected thing for any woman in the industry, however in recent years the practicality and health risks involved with wearing heels has been challenged. As time has passed we've seen more catwalk falls and heels have grown to ridiculous shapes and heights from Alexander McQueens armadillos from S/S 10 to Marc Jacobs backwards heels from 08.
In recent years (much to joy of some women) flat shoes have made a drastic emergence
in to high fashion, they don't have to be frumpy and dreary anymore. With the likes of Olivia Palermo, Sienna Miller and Alexa Chung pioneering the ballet pump look (even VB was spotted in flats a month or two ago!) its clear this is a certified trend, after all they are comfortable, practical and stylish.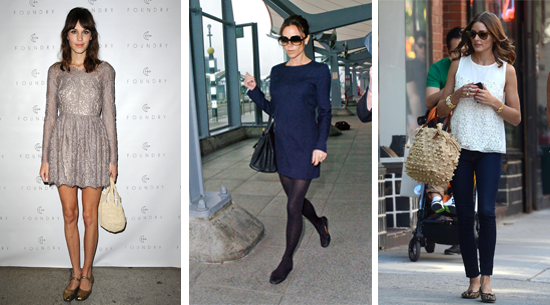 Recently, classic french beauty and actress Catherine Deneuve has dismissed the high heel and claimed that the
mid-heel is far sexier.
The French actress said 'twisted' designers are to blame for the modern obsession with five-inch heels that are impossible to walk in.
Deneuve calls the trend an 'aberration', claiming 'simple' shoes help women to feel 'emancipated', s
he said: 'One cannot walk properly in very high heels.
'But also, we believed in an idea that no longer means anything for people today: that having a natural allure was the most important thing. That's what counted most for all of us.'
When portraying
Séverine Serizy in the 1967 film Belle Du Jour, Deneuve purposely and quite controversially chose to wear clunky mid heels.
Does this latest comment confirm the death of the heel? I think not. Heels, if comfortable and easy to walk in (there is nothing worse than beautiful shoes on a woman who can't walk in them), make a woman feel sexy. I am partial to a pair of flat shoes especially to just nip out the house, but being short and stumpy they can make me feel a little frumpy, put on a pair of your favourite heels and you become a 5"9 goddess with elongated legs, its easy to see why guys love a girl in heels. So don't worry girls (or guys) I think we've got a while till the high heel leaves us.
Here are my personal picks
1. Studded Heel Sandal by Zara TRF / 2. Tribute Two by Yves Saint Laurent (in my dreams) / 3. Shola Suede Platforms by Topshop / 4. Gwenda Court Shoe from Topshop / 5. Suede Court Shoe by Zara / 6. Platform Sandal by Zara
1. Tasseled Moccasin by Zara / 2. 410 Runners by New Balance (these are RIDICULOUSLY comfortable) / 3. Milano Ballerina Flats by Topshop / 4. Kitty Flats by Charlotte Olympia / 5. Metallic Ballerina by Zara / 6. Jezzabel Gold Heel Pumps by Topshop